Finally, on the 12th of March, my exhibition about GDR books going independent was opened. We had a wonderful and fun reception at Combinat56, a creative coworking space in Munich. In celebration of the books from my childhood guests had been invited to come in 80s style outfits. Shoulder pads, big hair and neon accessoires certainly added to the fun of the evening…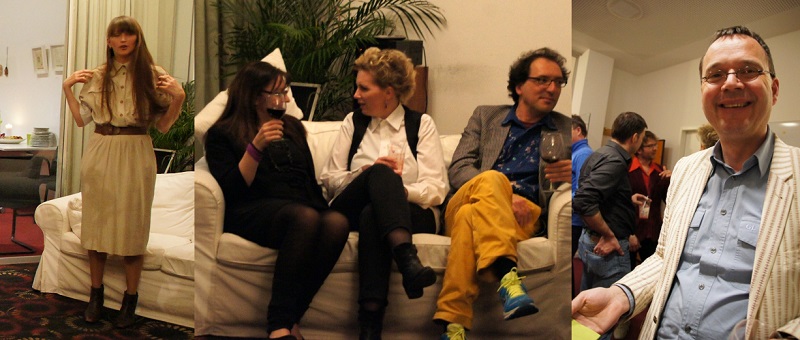 A highlight for me was the performance of the choir of freelancers. With passion and joy they sang two songs that brought German history alive in the present moment. It was both moving and cheerful.



I was so happy about the many guests and inspiring conversations … Not just my book objects got a lot of positive comments, also the culinary supply (yummy!) by Combinat56 was deservedly praised. Many thanks to everyone who came to the vernissage and who participated in this wonderful evening. Special thanks go to Sina Brübach, founder of this space, who made this exhibition possible and who made sure that the vernissage was the party it was.

Until end of April 2014 you can visit my altered books during normal office hours and evening events at Combinat 56. You might want to check the booking table to see if the big meeting rooms are occupied at the time you want to visit (look for "Ideenschmiede" and "Großer Salon").
All pictures of the vernissage have been taken by Christine Seidel. More pictures from the exhibition can be seen at flickr.