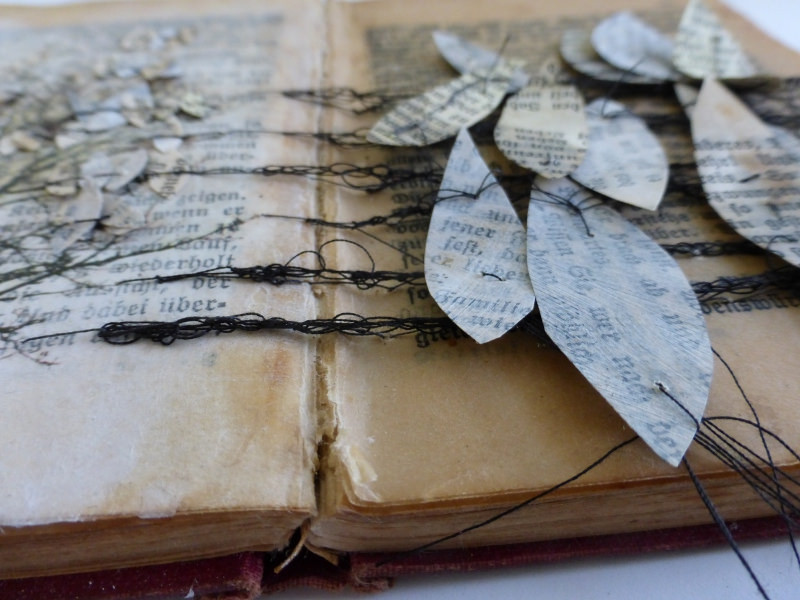 Saturday January 20, 2018 at the MachWerk München (Schulstraße 1, at Rotkreuzplatz)
In this workshop we will explore books as a material that wants to be transformed. We will dissect, dissolve and pierce. That process sets a lot of creativity free! We use it to create something new: We sew, glue and form new connections. We integrate found objects, repair holes. Texts outgrow themselves and become sculptural. The story is told in a new way, with more layers and unique twists. You will get to know some simple techniques to get started with altering a book. The main foxus of the day will be to give space to your creativity and to the new stories that want to emerge.
The workshop starts at 9.30 a.m. and ends at 4.30. p.m. There will be a lunch and coffee break.
I will bring a few materials and tools. All you need to bring are a few old books that you are ready to let go, a pair of scissors and an interest in experimenting. And – if you want – also
paper scalpell and support mat for cutting
needle and yarn
glue and tape
additional material of your choice: beads, buttons, wool, found objects, wire,….
additional paper of your choice
if you would like to work with paint, feel free to bring your pens, inks etc.
a container to transport your creations home


cost per person: 70 EUR
number of participants: minimum 4, maximum 12.
Please email is@ines-seidel.de to register. I will send you payment details and further information. Registration is valid after payment has been made.