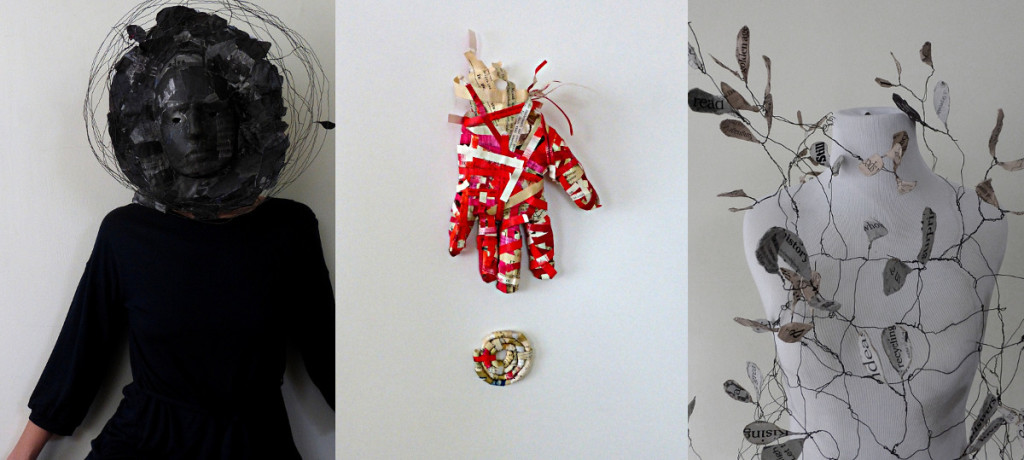 2,5 days. 1st to 3rd Nov 2019, MachWerk München
Let's connect paper art to the human body! This exploration may lead to experimental jewelry, expressive masks or exclusive requisites – the versatility of paper opens up a whole bunch of options. In combination with wire or yarn unique objects emerge that are more or less wearable and that draw a specific appeal from alluding to the body.
Various projects and techniques will be introduced to approach the topic of wearable paper art. From these, original pieces develop as we follow the flow of the material and our own playfulness. At the end of the class, there will be an opportunity to be photographically captured with the paper creations.
During the workshop you are provided with newspaper, book pages, binding wire, wallpaper glue and yarn. Feel free to add your own favorite materials into the mix (suggestions see below).
Apart from exploring paper as wearable art these two and a half days are also great for giving your creativity space and fresh impulses!

Workshop times
1st of Nov (Fri): 1.30 to 5.30 p.m.
2nd of Nov (Sat): 9.30 a.m. to 4.30 p.m.
3rd of Nov (Sun): 9.30 a.m. to 4.30 p.m.
(including lunch and coffee breaks)
I will bring some materials and tools for everyone to use. You basically need to bring your openness for experimenting. And – if you can and want to – also
• additional paper (e.g. tissue paper, crepe paper, handmade paper,…)
• a pair of scissors
• needle and yarn
• glue (e.g. all purpose glue and/or glue used for decoupage)
• additional material of your choice: beads, buttons, crocheting wool, found objects, wire, felt….
• Supplies for DIY jewelry making e.g. earring hook, necklace hooks. You can also buy some supplies in the workshop.
• a good idea: some container to transport your creations (e.g. paper bag)
Location: MachWerk München, Schulstraße 1, at Rotkreuzplatz. Central and easy to reach by public transport. Being a place where creative workshops take place on a daily basis, the space has a unique creative atmosphere. There are a bunch of options for lunch and coffee in the neighbourhood.
cost per person: 200 EUR
number of participants: minimum 4, maximum 8.
Please email is@ines-seidel.de to register. I will send you payment details and further information. Registration is valid after payment has been made.